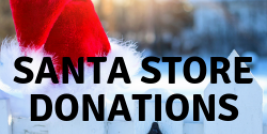 Glen Elm Community School Council will once again be collecting items for the holiday season Santa Store. Start collecting your new or gently used housewares, mugs, games, puzzles, toys, jewelry, Christmas decorations, gift wrap, gift bags and tape. The students will "shop" from the donations before the holiday, choosing items for parents and siblings. Items will all be priced at 25 cents.  
All items can be dropped off at the school until December 14th. 
Thank you in advance for your generosity!